<!center><!video controls controlsList="nodownload" src="/video/Gameshows.mp4"><!/center><!br> <!center><!img src="/2018/images/menu/review.jpg"><!/center><!br> <!!! ALL-CON LLC>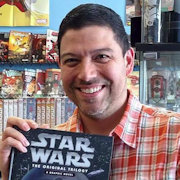 Eddie Medina

Rantcor Pit

---
FRI 11:00a.m.: Podcasting Day Camp (45 mins.)

Room: GAME SHOWS: MAYFAIR [Lobby Level] Rated: Everyone

Produced By: JediCole Universe / Half Ass Productions

Do you listen to podcasts? Have you ever said to yourself ''I could do that, and better!''?

Do you listen to podcasts and wonder how and why they do that?

Do you have a curiosity about podcasts but have never listed to one?

Do you want to know what all of these questions are about?

If you answered ''yes'' to any of the above, then you need to attend the first annual Infinicon Podcasting Day Camp! Each day of the convention (yes, Friday, Saturday, and Sunday), the Accidental Podcaster himself, Cole ''JediCole'' Houston, will be your Head Counselor as the moderator for panels on podcasting with some of the most seasoned DFW area podcasters he can find. The mix of Camp Counselors will change daily, as will the variety of topics covered from the bare bones basics to pros and cons of podcasting.

Attend one day or all three and get pick up some insights, skills, and general info on podcasting from how to get started, finding your niche, pre-recorded vs. live podcasting, audio vs. video podcasting, and more. This is a great Day Camp for any podcasting fan or for future and present podcasters. Learn the ropes without having to learn to tie knots in a rattlesnake-free environment that is out of the unpredictable Texas weather!

Free jumbo marshmallow on a stick for all campers, too! (No campfire, though, the hotel kind of frowns on that.)
Speaking: JediCole Houston; Eddie Medina

Category: Discussion Panel

---
FRI 5:00p.m.: Do You Like ''The Star Wars''? (45 mins.)

Room: GAME SHOWS: MAYFAIR [Lobby Level] Rated: Teen

Produced By: JediCole Universe / Half Ass Productions; Rantcor Pit

The Rantcor Pit will be hosting three unique game shows over the weekend and this is certainly one of them! Jedi or Sith, Rebel scum or Imperial agent, moof milker or nerf herder, Outlander, smuggler, bush pilot, or scoundrel all Star Wars fans are invited to watch or participate in a lively Star Wars trivia game presented by The JediCole Universe's Star Wars podcast The Rantcor Pit! Even your droids are welcome!

Test your trivia knowledge with questions encompassing all eight episodes of the cinematic Saga plus 2016's Rogue One. Is the Force with you? Do you just plain like Star Wars? Either way, this is the game show for you!

Contestants: Three
Speaking: JediCole Houston; Eddie Medina

Category: Game Show

---
SAT 10:00a.m.: Podcasting Day Camp (45 mins.)

Room: BEL-AIR 1 [Lobby Level] Rated: Everyone

Produced By: JediCole Universe / Half Ass Productions

Do you listen to podcasts? Have you ever said to yourself ''I could do that, and better!''?

Do you listen to podcasts and wonder how and why they do that?

Do you have a curiosity about podcasts but have never listed to one?

Do you want to know what all of these questions are about?

If you answered ''yes'' to any of the above, then you need to attend the first annual Infinicon Podcasting Day Camp! Each day of the convention (yes, Friday, Saturday, and Sunday), the Accidental Podcaster himself, Cole ''JediCole'' Houston, will be your Head Counselor as the moderator for panels on podcasting with some of the most seasoned DFW area podcasters he can find. The mix of Camp Counselors will change daily, as will the variety of topics covered from the bare bones basics to pros and cons of podcasting.

Attend one day or all three and get pick up some insights, skills, and general info on podcasting from how to get started, finding your niche, pre-recorded vs. live podcasting, audio vs. video podcasting, and more. This is a great Day Camp for any podcasting fan or for future and present podcasters. Learn the ropes without having to learn to tie knots in a rattlesnake-free environment that is out of the unpredictable Texas weather!

Free jumbo marshmallow on a stick for all campers, too! (No campfire, though, the hotel kind of frowns on that.)
Speaking: JediCole Houston; Eddie Medina

Category: Discussion Panel

---
SAT Noon: Toy 'Toons (45 mins.)

Room: GAME SHOWS: MAYFAIR [Lobby Level] Rated: Teen

Produced By: EdMed Art

There are cartoons. There are toys. There are cartoons based on toys. There are toys based on cartoons.

All of the above collide in Toy 'Toons, the game show creation of The Rantcor Pit Live's own Eddie Medina! This trivia driven show concentrates on the toy lines that were either based on cartoons or on the cartoons based on toy lines. Premiering at ALL-CON 2017, this show proved so much fun that it has become part of the Infinicon 2017 lineup!

How well do you know your G.I. Joe, Thundercats, Silverhawks, Strawberry Shortcake, Cowboys of Moo Mesa, Transformers, Care Bears, Street Sharks, Teenage Mutant Ninja Turtles, Masters of the Universe, Pound Puppies - well, you get the idea - trivia? Prepare to put it to the test to vie for a great prize package!

Contestants: Three
Speaking: Eddie Medina

Category: Game Show

---
SAT 1:00p.m.: The Rantcor Pit Galactic Games VII (45 mins.)

Room: GAME SHOWS: MAYFAIR [Lobby Level] Rated: Teen

Produced By: JediCole Universe / Half Ass Productions; Rantcor Pit

The premiere game show of ''The Rantcor Pit Live'' is back!

As seen on the live podcast and at Infinicon, ALL-CON, and Famous Monsters Convention, the Galactic Games return to ALL-CON! The whole Rantcorps will be in place to host this dynamic mix of trivia, activities, and other simple tricks and nonsense that pits four contestants against one another in a Geonosian Arena style battle royale! Actually it is more a game show than a battle and no giant monster beasts are involved. None the less, challenges abound that would make a Padawan-seeking-the-rank-of-Jedi balk.

If you are steeped in the Saga, jolly for Jedi, a Rebellion rouser, silly for Sith, or just plain feel like Star Wars is where it's AT-AT, you need to be a part of this game show - in the audience or among the randomly selected contestants!

Contestants will vie for a Hasbro Black Series 6'' scale Rey's Speeder with Rey (Jaccu) action figure valued at $60.00! Prizes will also be awarded to the second and third place contestants.

Contestants: Four
Speaking: JediCole Houston; Eddie Medina

Category: Game Show

---
SAT 8:00p.m.: Rantcor Pit After Dark (1 hr. 45 mins.)

Room: BEL-AIR 1 [Lobby Level] Rated: Adult

Produced By: JediCole Universe / Half Ass Productions; Rantcor Pit

For nearly half a decade Cole Houston and Eddie Medina have collectively been The Rantcor Pit. From their audio podcast to their ever-travelling, Dallas based, live-streaming ''The Rantcor Pit Live'' to last year's The Rantcor Pit Road Show, chances are you've seen and/or heard ''Your Favorite Star Wars Guys''. But (for the most part) you've never seen them quite like this!

Eddie and Cole are ready to let their hair down (and maybe their pants, but hopefully not) with a special live presentation that will play bluer than Aunt Beru's milk! Yes this is the late night, no-holds-barred, F-bomb dropping Star Wars X-travaganza you've been waiting for! ''The Moist Side of the Force'' is about to get moister than a Tattooine vaporator at harvest time and exclusively at ALL-CON!

If you thought there were uncomfortable moments in The Last Jedi, well... let's just say this show will make Rian Johnson blush!
Speaking: JediCole Houston; Eddie Medina; K-Zach Schrotter

Category: Performance