24-Hour Endurance 1,000 Anime Song Medley Festival
Japan's ultimate event for anime otaku was made to hit in America! The 24-Hour Endurance 1,000 Anime Song Medley was the talk of All-Con 2012, and they're powering up for an unforgettable return in 2014.

Celebrating its 19th year, the 24-Hour Endurance 1,000 Anime Song Medley is a nonstop show of anime and tokusatsu titles, scenes, and rarities, collected and presented on a theater-sized screen by the deeply knowledgable--and very funny!--Keisaku Kimura and Kazushi Hinoki. At their shows in Japan the duo is known as "Otakuzake," but here they go by what that means in English: they're the Fanboy Booze Brothers!

Since his first All-Con appearance in March of 2010, indy filmmaker Keisaku Kimura has become a frequent sight on Japanese TV, earning media respect to go with his years of otaku cred with the publication of his book, "Anison Baka Ichidai." The director and special effects creator for the live-action adaptation of "Famires Senshi Purin" (2009), he also produced a documentary on Otakuzake's All-Con 2010 adventures.

Artist and robot toy buff Kazushi Hinoki, an assistant to Takeshi Obata on "Hikaru no Go" (1998-2003, Jump Comics), merrily continues to unleash his manga creations on the world. His works include "Chaos Gear" (2000, Magazine Z Comics), "Twin Tail" (2003, Young Champion Comics), "Famires Senshi Purin" (2003-06, Young King Comics), "Gun x Sword" (art only; 2005, Shonen Champion Comics), "Idol H: Himeko no Himitsu" (2008-09, GA Comics), and "Police Girl" (2009, Nichibun Comics).

This fresh new edition of the 24-Hour Endurance 1,000 Anime Song Medley will be held in the Crowne Plaza's Addison Theater, complete with comfy tiered seating and a smorgasbord of anime- and tokusatsu-related loot up for grabs in contests held throughout the Medley! Free for all All-Con attendees!



Watch with excitement as Kazushi Hinoki and Keisaku Kimura prepare to bring anime otaku to American audiences... An ALL-CON exclusive!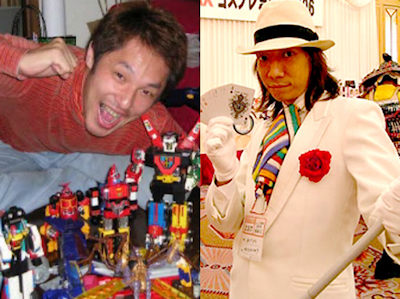 Otakuzake duo of manga artist Kazushi Hinoki
and indy filmmaker Keisaku Kimura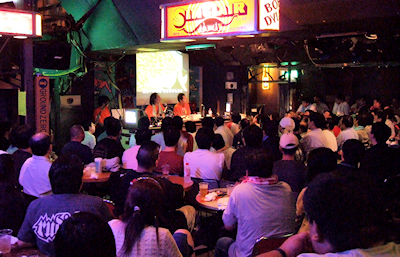 Otakuzake Endurance Anime Song Medley, Shinjuku, Tokyo - January 2009.


Click the banner above for the 2009 Opening Video on YouTube