---
<! End Demo Code>











---
---
HOTEL DISCOUNT CODE: AC1
October 8, 2014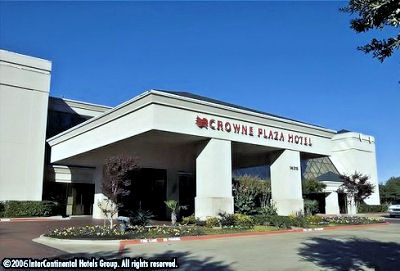 Expires 2/17/15 ... DO NOT BOOK ONLINE
If you book directly through the hotel your card won't be charged until check-out and you can cancel up to 24 hours in advance without any penalty.

If you book online your credit card will be charged immediately and you may experience difficulties if you try to cancel your reservations at all.

This is our 9th year at the Crowne Plaza. Trust us, book directly with the hotel. They're good people and have different rules than the online automation.

If you will be using a debit card, please be aware of the Hotel's policy: http://www.ALL-CON.net/htl.html

Crowne Plaza North Dallas, 14315 Midway Road, Addison, Texas 75001, 972-980-8877
VENDOR AND EXHIBITOR SELECTION
October 8, 2014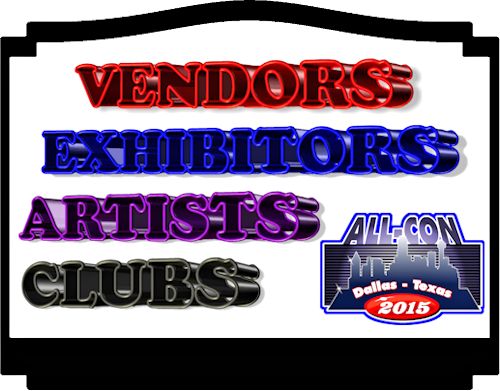 APPLICATION TIME. Since 2011 ALL-CON has sold out all tables and booths a year in advance. This year we went to an application system to better balance out the selection process. Thursday October 9 is the first round of selections from the application received. If you want a booth or a table, time to get your application in!
Vendor Room: http://www.ALL-CON.net/bth.html
Exhibit Hall: http://www.ALL-CON.net/alley.html
Vendor Booth: $200, Vendor Endcap: $450, Exhibit Table: $120
2015 Souvenirs Announced
April 29, 2014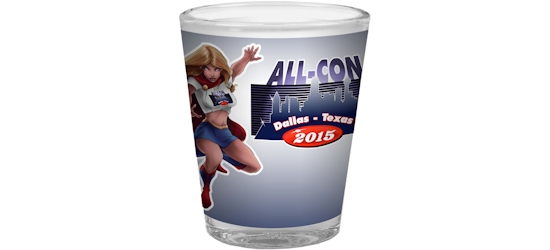 Back in 'the day' we started selling ConCritters - small stuffed animals wearing convention logo'ed t-shirts. Since then the critters have been retired, but the selection of ALL-CON merchandise has grown! For 2015 we are offering: 4'' patchs; 1.75''challenge coins; ceramic mugs; 2oz. shot glasses (individual and 4-packs); and t-shirts.

You can buy the souvenirs by themselves or with your badge by going to the online boxoffice. www.ALL-CON.net/shop... You may pick up your souvenirs at Will-Call at the convention. Sorry. We do not ship.
postcards Are Away!
April 21, 2014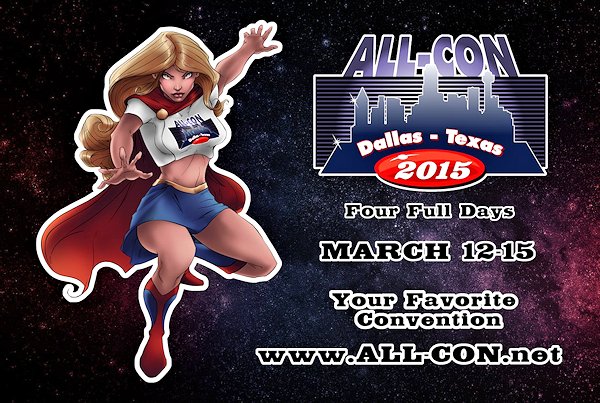 If you collect (or even enjoy!) ALL-CON art, here's your good news! The 2015 post cards have been sent out. If you aren't on the mailing list yet you can sign up here ... www.ALL-CON.net/postcardlist.html... or watch for them at other local conventions.
Hello World!
April 18, 2014
We have made some milestones! 2014 was our tenth event, our first four day convention, and first run at a FREE Day at the con. Do you know what? WE HAD FUN! So much in fact that we're keeping the four-day/free day format for 2015!




To kick things off, we're offering $5 off an Event Badge (all four days)! The theme is "Discovering New Horizons". We're looking forward to seeing what innovative cross-over cultures and exploration costuming you are able to come up with at the convention in March. The Promotional Code for your $5 off is: 031215 (the date of the first day of the convention). To use the code, go to: http://www.ALL-CON.net/shop, enter the code, and buy as many badges as you would like for the upcoming convention. They make great Easter gifts and the code will work though the end of Easter Sunday night - April 20, 2014.
---
---

---
<!img src="/2015-Crowne/layout/layout2_13.gif" width=15 height=29 alt="">